Edgebanding - T-EB-901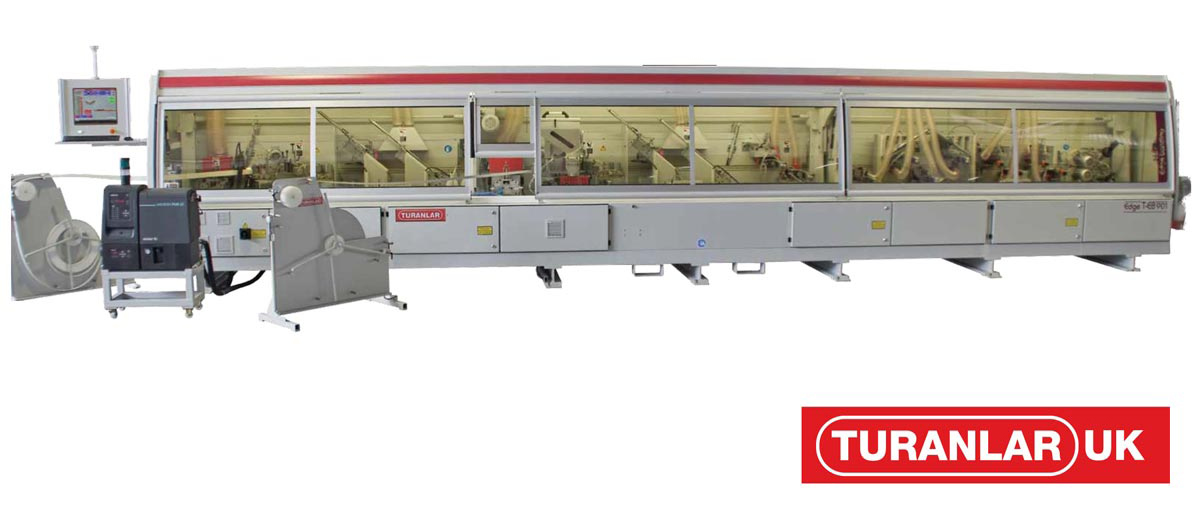 The T-EB-901 is our most high quality and perfect edgebander to be manufactured by Turanlar. Made specifically for speedy, efficient and high quality production of light panels and Honeycomb timber doors, with all the same expected features on a high production edgebander this machine has that little bit extra as well. Similar units on this machine as to the 701 are its pre-milling, top and bottom trimming, end cutting, automated glue feed system, corner rounding, top and bottom scraping, grooving saw, hot air blowers and anti-adhesive spray as well as its easy to operate programming system (unlimited amount of programs).
As expected this edgebander comes with diamond tipped cutters and knives. This machine is designed for continuous production and with the versatility to be able to change settings quickly and easily. Please get in touch if you require more details and pricing.
Product Information
The T-EB-901 comes with extras though including:-
Automated Band Switching System for up to four different types of edging.
PUR Glue System
Filling Material and Head and Bottom Cutting Unit
Front and Back Buffing Units
Top and Bottom Waxing Unit
Infrared Pre-heating lamp
Guider unit for narrow workpieces
Automatic Lubrication Unit
Product Specification
| | |
| --- | --- |
| Electrical Level: | 415 V |
| Phase: | Three Phase |
| Nominal Current: | 70A |
| Edge Material Thickness: | 0.4 – 3mm |
| Board Thickness: | |
| Without Pre-Milling | 10-60mm |
| With Pre-Milling | 10-50mm |
| Speed: | 15-20-25m/min |
| Total Electrical Power: | 31kW |
| Total Air Pressure: | 7 Bar |
| Total Air Usage: | 800lt/min |
| Working Height: | 910mm |
| Profile Milling: | 2 x 1,5kW / 12000rpm |
| Front Milling: | 2 x 3kW/ 9000rpm |
| End Cutting: | 4 x 0,37kW/ 12000rpm |
| Top and Bottom Milling: | 2 x 0,37kW / 12000rpm |
| Trimming: | 4 x 0,37kW/ 12000rpm |
| Buffing Motor: | 2 x 0,25kW/2800rpm |
| Dust Extraction Diameter: | 150mm |
| Machine Dimensions (WxLxH): | 1300x10700x1900mm |
| Machine Weight: | 6900kg |
---
Download Spec Sheet
T-EB-901 - Edgebanding