Beam Saw - T-PE-436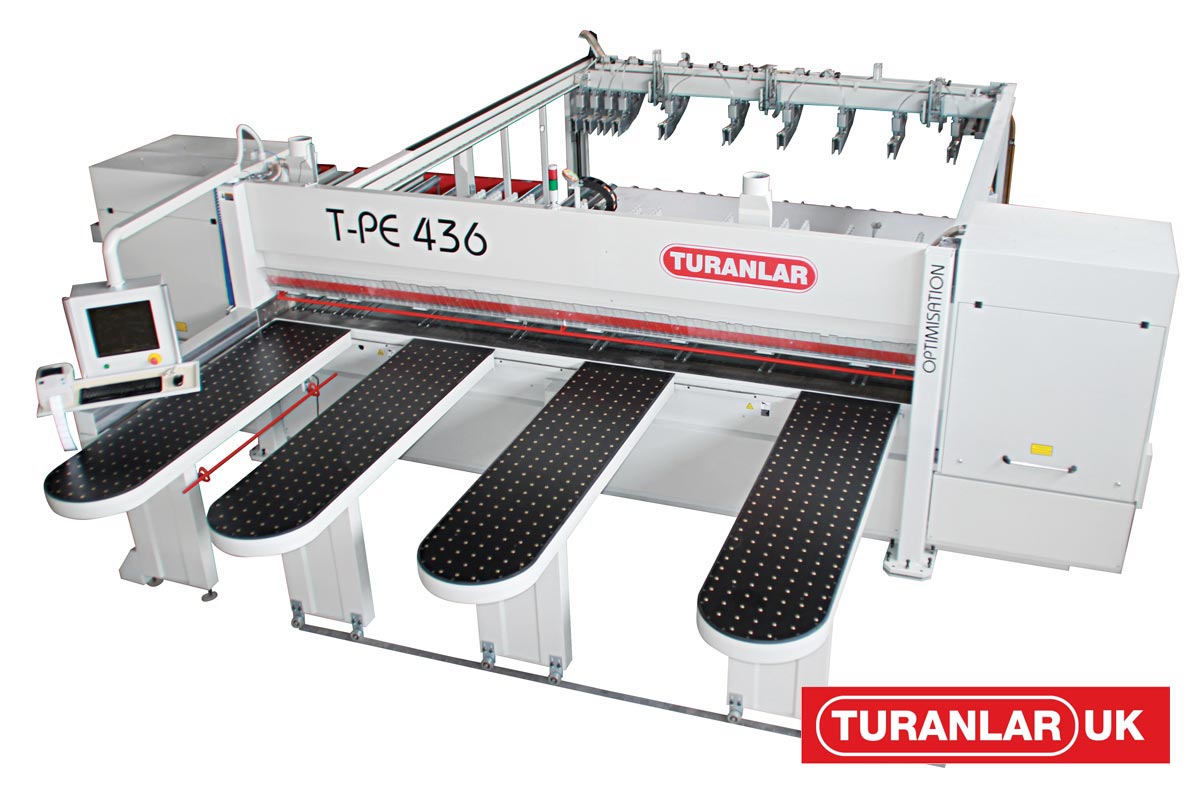 We are proud to be able to offer the Turanlar range of Beam Saws available through MS UK. The different models of beam saws provided under the Turanlar UK brand cater for SME businesses as well as large established plc ventures. There is a model for everyone. The traditional features of good quality beam saws are prevalent in all the models that Turanlar manufacture i.e. cutting and scoring saws, strong durable body, optimisation on all models, High Safety and Security features. There are also additional features that can be added like automated rear panel loading conveyors etc.
The T-PE-436 and T-PE-434 are very similar models in that they both have the PANELCUT software which is very easy to follow and program and allows for visual drawings to be imported even from different software. The speed of the saw operation can operate up to 150m/min cutter speed and 60m/min for the pusher fence. Another advantage is the simplistic pneumatic system on both machines for swapping around the saws when required, literally taking seconds. Both have safety features that show on the monitor if an error has occurred. Other advantages to these machines are a barcode printer, automated adjustment of saw blade according to panel thickness, automatic lubrication and they can be used in a manual cut operation if required. The major difference between the two machines are the T-PE 436 can cut at a depth of 108mm and the T-PE-434 cutting depth is 72mm.
The T-PE-433 is a much more basic and functional machine which can cut up to depths of 54mm. Obviously it is a much more heavy operator user machine without the same CNC technology you find on the newer bigger models. The T-PE-433 is a very effective machine at a competitive price to its rivals in the market. Please see our technical data information on each machine to see which one would best suit your company's needs and get in touch if you wish to make an enquiry.
Product Specification
| | |
| --- | --- |
| Electrical Level: | 400 V / 50Hz |
| Total Electrical Power: | 36kW |
| Nominal Current: | 40 A |
| Air Pressure: | 7 Bar |
| Cutting Width: | 4200mm |
| Feeder Table Length: | 4200mm |
| Cutting Depth: | 108mm |
| SAW OPERATION SPEED | |
| Cutter Group Forward – Backward: | 2-150m/min |
| Rear Fence Forward – Backward: | Max 60m/min |
| Forward Speed: | N/A |
| Backward Speed: | N/A |
| Saw Motor Power Cutting: | 22Kw |
| Saw Motor Power Scoring: | 2,2kW |
| SAW ROTATION | |
| Cutting: | 2500-4200rpm |
| Scoring: | 6500rpm |
| SAW SIZE | |
| Cutting: | 450x80x4.8=72 |
| Scoring: | 200x65x4,4Z=36 kon |
| Dust Out Feed: | 150mm (x5) |
| Working Space of Machine: | - |
| Machine Dimensions (WxLxH): | 7.5 x 9.2 x 2.0m |
| Machine Weight: | 9500kg |
---
Download Spec Sheet
T-PE-436 - Beam Saw