Thermoforming Duo Hot Air - DHA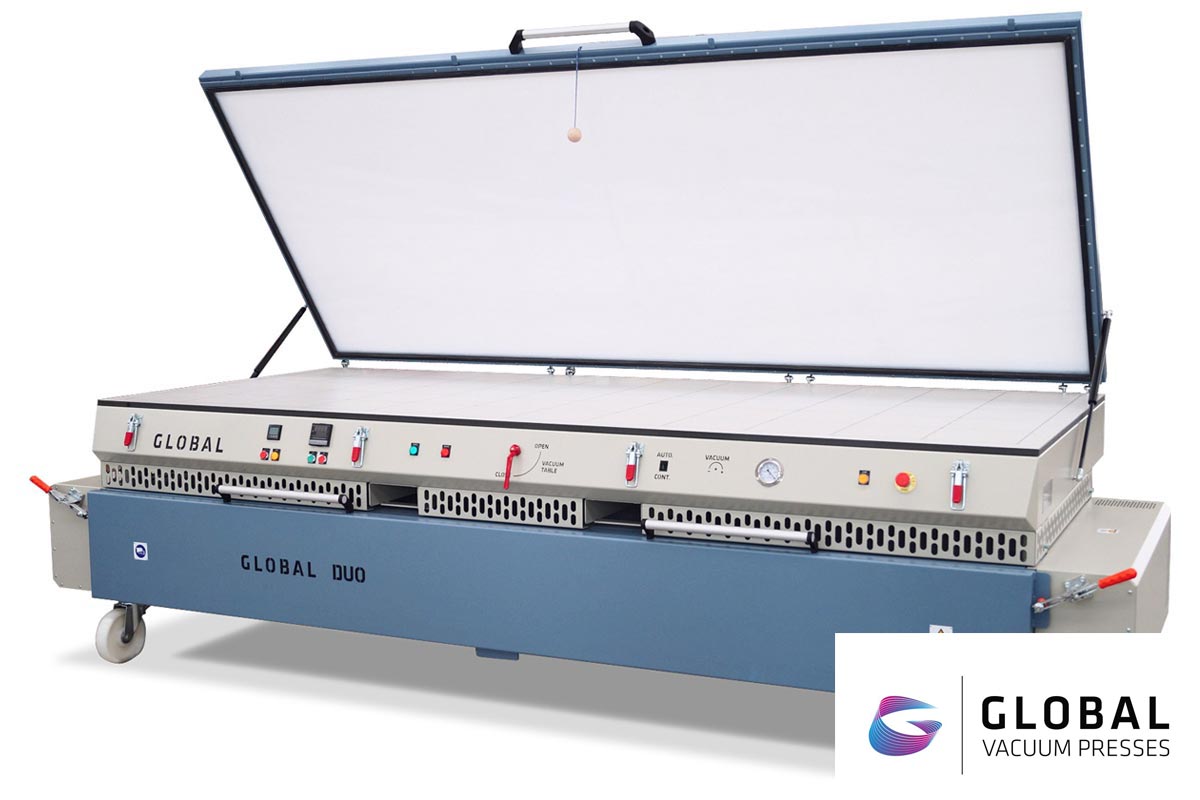 This Global Thermoforming Duo Hot Air machine (DHA) is an innovative "one machine" solution for preheating and thermoforming acrylic solid surface material, thermoplastics and similar composite materials, as well as for woodwork applications like veneering, laminating and bending different kinds of wood. The heating technology consists of two convection heating elements which are mounted at the sides, and integrated cross-flow fans that ensure a uniform heat distribution. Accurate preheating and vacuum forming can now be carried out with minimal floor space. This combined machine, vacuum press and heating oven that greatly increases the performance of workflow and does so with only little investment. For more information please contact us.
Product Information
Reduced manufacturing costs through combined machine
Usable for thermoforming and woodworking
Suitable for preheating solid surface materials, thermoplastics and similar composite materials
Vacuum Press
- Rotary vane, maintenance and oil free vacuum pump
Continuous and automatic vacuum pump mode
Max vacuum pressure 9t/m²
Strong HPL compact press board, 100% air tight.
Silicone Rubber membrane 2mm thick (translucent)
High volume membranes available
Hot Air Oven
Side mounted convection heating elements with cross flow ventilation
Uniform heat distribution by closed heating circuit around the material
Working temperature max 190°C
Adjustable digital temperature control unit
Preheating time 2 minutes/mm
Preheating timer with indicator light
380 Volt, Three phase.
Product Specification
| Code | Vacuum Pump | Press Capacity | Effective heating surface area | Compact Press Board | Power Requirements |
| --- | --- | --- | --- | --- | --- |
| DHA-SS-2513 | 16m³/h | 2560 x 1310 mm | 2400 x 950 mm | 10 mm | 18.0 kW |
| DHA-SS-3113 | 25m³/h | 3160 x 1310 mm | 3000 x 950 mm | 10 mm | 18.5 kW |
| DHA-SS-3713 | 25m³/h | 3760 x 1310 mm | 3600 x 950 mm | 10 mm | 18.5 kW |
| DHA-PS-2513 | 40m³/h | 2540 x 1290 mm | 2400 x 950 mm | 18 mm | 19.0 kW |
| DHA-PS-3113 | 40m³/h | 3140 x 1290 mm | 3000 x 950 mm | 18 mm | 19.0 kW |
| DHA-PS-3713 | 40m³/h | 3740 x 1290 mm | 3600 x 950 mm | 18 mm | 19.0 kW |
---
Download Spec Sheet
DHA - Thermoforming Duo Hot Air