Postforming Machine - T-PF-777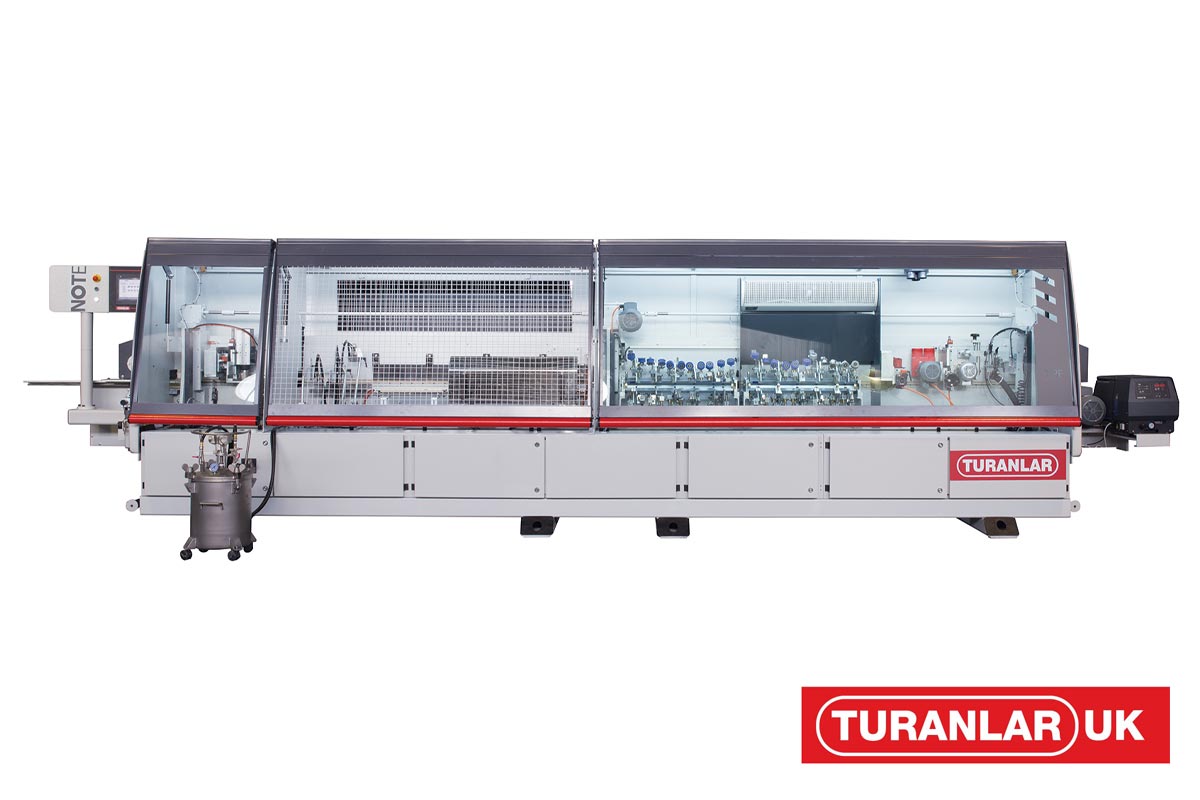 The T-PF-777 is the highest model in the range of Turanlar UK throughfeed postforming machinery. It provides a complete solution in postforming applications for manufacturers who wish to have a more robust machine which is capable of extra trimming, grooving and heating productivity than any other model we have supplied. The added bonus of this machine is its capability to use PVA white glue using quality spraying equipment that comes standard with the machine and a PUR sealing unit for waterproof resistance for worktops and panels that are in wet environments. There is no other throughfeed postformer on the market that can be compared in specification and price and is the ideal machine for manufacturers who are postforming various profiles in either HPL or PVC. We have customers in various industries of laminate/PVC postforming some include the Doorset/Door industry, Washroom and Cubicle Sectors to General Shop fitting and Worktop Manufacturing.
The T-PF-777 postforming machine guarantees precise, efficient and productive operation.
PRODUCT INFORMATION:
Clear Advantages from our T-PF-777 are:
Easy operation.
Adjustable speed
PLC Touch Screen
Belt feed track system
High quality shortwave infrared lamps provide instant heating. No need to wait for elements to warm through. These can be controlled in power.
Automated PVA glue application.
Capable of processing all common profiles.
Triple Cartridge for forming profiles – Easy to interchange between 3 profiles. More can be requested if needed.
Steel Cooling Cartridges
Cooling Fan Unit
High Frequency Trimming Motors
Grooving Saw
Motorised Board Thickness adjustment.
Product Specification
| | |
| --- | --- |
| Electrical Level: | 400 V / 50Hz |
| Nominal Current: | 70A |
| Speed: | 5-20m/min |
| Laminate Thickness: | 0,4 - 1mm |
| Laminate Height: | 80mm |
| Total Electrical Power: | 34kW |
| Working Height: | 910mm |
| Milling Motor: | 0,37kW/ 12000rpm |
| Grooving Motor: | 0,55kW |
| Buffing Motor: | 0,18Kw |
| Total Air Pressure: | 6 Bar |
| Dryer Lamp: | 4,0kW |
| Pre Heated Lamp: | 3,0kW |
| Laminate Milling Power: | 0,37kW/ 12000rpm |
| Prime Milling Power: | 1,5kW/12000rpm |
| Total Air Usage: | 100lt/min |
| Dust Out Feed Diameter: | 150mm |
| Machine Dimensions (WxLxH): | 1200x8000x1850mm |
| Machine Weight: | 4450kg |
---
Download Spec Sheet
T-PF-777 - Postforming Machine