Edgebanding - T-EB-157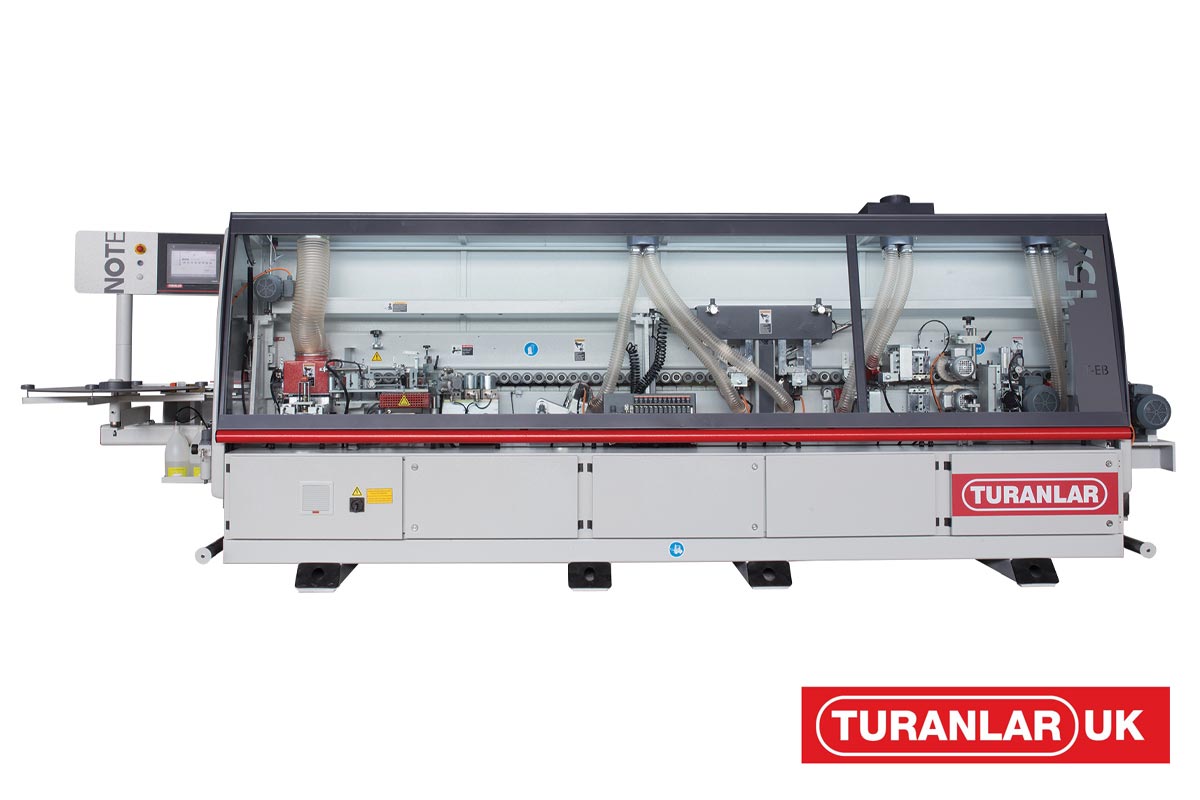 The T-EB-157 is one of the professional series of edgebanders manufactured by Turanlar. The T-EB-157 performs perfectly with its standard units i.e. PLC Touch Screen, Pre-Milling, Top and Bottom Trimming units, Radius Scraping and Buffing processes as well as our Teflon coated EVA Hotmelt glue pot system found on the majority of the Turanlar UK Edgebander range. In addition with the T-EB-157 you have hot air blower units and a grooving saw as well as Anti-adhesive spray which is done before the pre-milling. It can apply all common edging materials between 0.4-3mm (PVC, Veneer, ABS, Melamine & Solid Wood etc.) all up to 50mm wide panels. It has a feeding speed of 15m/min.
The T-EB-157 is one of the most popular models of Turanlar Edgebanding machinery with most manufacturers due to its specification and cost. With its pre-milling unit and anti-adhesive spray done before the edge is applied to the panel as well as contour top and bottom trimming units in order to give a perfect corner rounding finish on the panel. Ideal for manufactures who are completing postformed work due to the flexibility of the trimming units which can trim and contour half round profiles efficiently. Its modern, functional & strong design is from over five decades worth of experience manufacturing Edgebanding machinery. There is also the option of having a separate PUR Glue system with this machine. Please get in touch if you require more details and pricing.
Product Specification
| | |
| --- | --- |
| Electrical Level: | 415 V |
| Phase: | Three Phase |
| Nominal Current: | 31A |
| Edge Material Thickness: | 0.4 – 3mm |
| Board Thickness: | |
| Without Pre-Milling | 10-50mm |
| With Pre-Milling | 10-46mm |
| Speed: | 15m/min |
| Total Electrical Power: | 15 kW |
| Total Air Pressure: | 6 Bar |
| Total Air Usage: | 300lt/min |
| Working Height: | 910mm |
| Pre-Milling: | 2 x 1,50kW/ 12000rpm |
| Trimmer Power: | 1 x 0,37kW / 12000rpm |
| Trimming: | 2 x 0,37kW/ 12000rpm |
| Grooving Saw: | 2,2kW/2800rpm |
| Buffing Motor: | 2 x 0,18kW/1400rpm |
| Dust Extraction Diameter: | 150mm |
| Machine Dimensions (WxLxH): | 1010x5300x1700mm |
| Machine Weight: | 2350kg |
---
Download Spec Sheet
T-EB-157 - Edgebanding